Last month, numerous members of the Center for Health Disparities Research (CHDR) scientific community attended the annual Alzheimer's Association International Conference (AAIC). The 2023 conference ran from July 16-20 in Amsterdam and online and brought together over seven thousand basic scientists, clinical researchers, early career investigators, clinicians, and care researchers at the largest international gathering on dementia science. 
CHDR affiliated faculty and students shared their research in a variety of formats, including featured research sessions, oral presentations, and poster presentations. Featured presentations included: 
Amy J.H. Kind, MD, PhD

,

"

Psychosocial and Other Experiential Factors at Micro-Levels and Meso-Levels Related to Dementia Risk from Middle into Older Age"

Ozioma Okonkwo, PhD

, "Culturally-informed Community-engaged Efforts to Improve Inclusion and Engagement of Underrepresented Ethnocultural Populations in the Alzheimer's Disease Neuroimaging Initiative 3 Study: The ADNI Diversity Task Force"
Poster presentations included: 
Leigha Vilen, BSPH

,

"Association Between Military Service Identified Through Public Data Tracing and Alzheimer's Disease Neuropathology at Autopsy"

Sarah Keller, BA

, "Assessments of Lifecourse Social Exposome Research"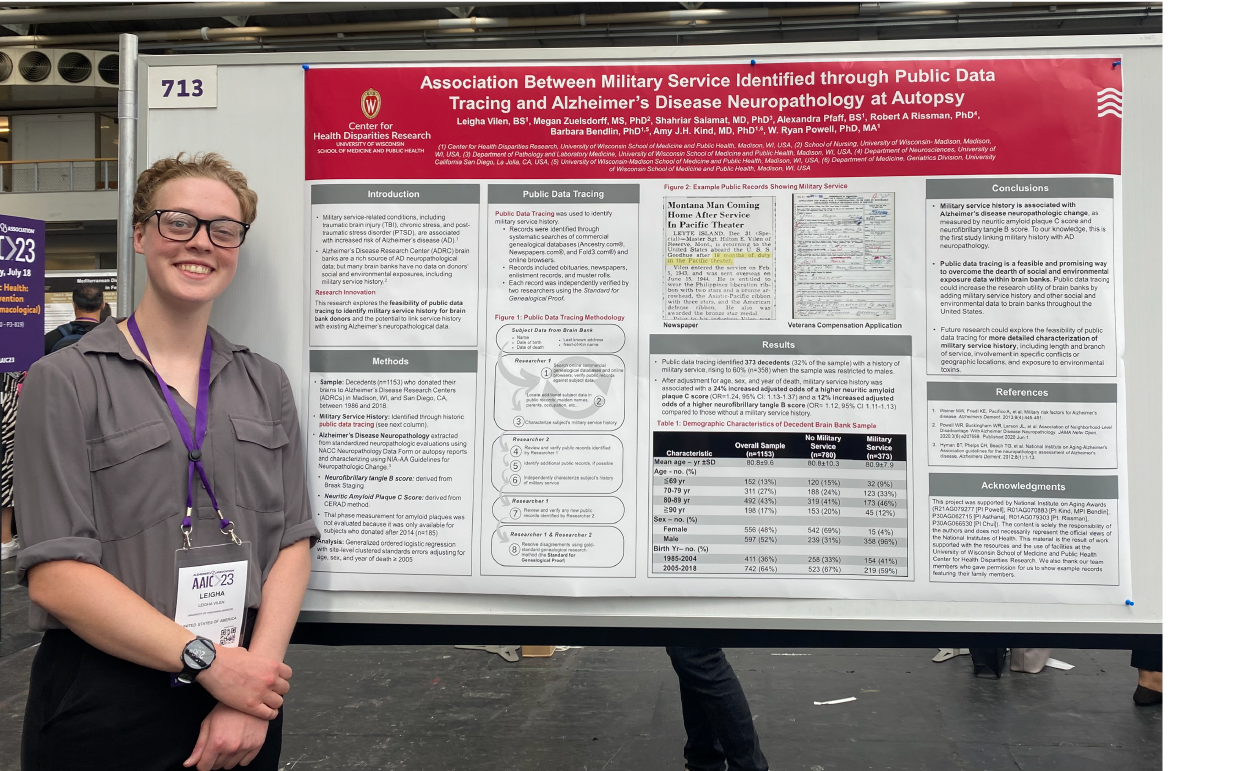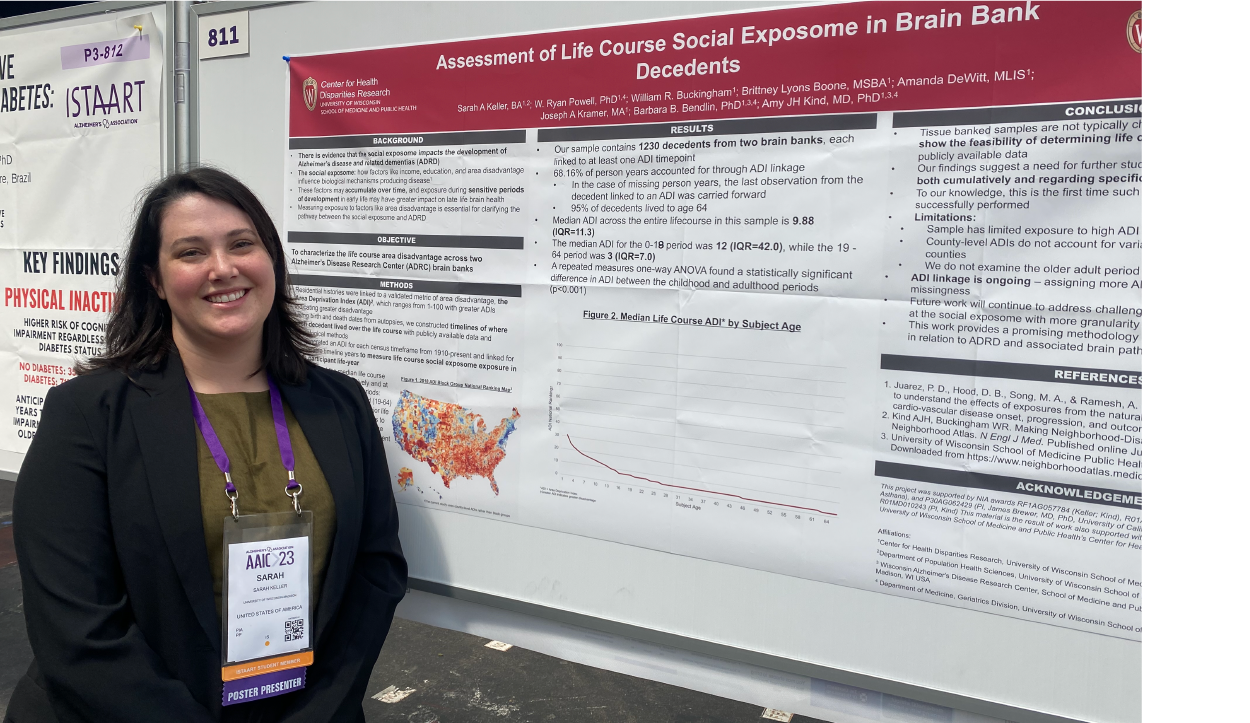 A full list of AAIC presentations by UW-Madison researchers can be found here, compiled by the Wisconsin Alzheimer's Disease Research Center. 
CHDR also had the privilege of hosting a dinner for members of our scientific community the evening of July 17 (pictured below). In CHDR Director Amy Kind's words, "It was a wonderful time with fantastic food and bright conversation."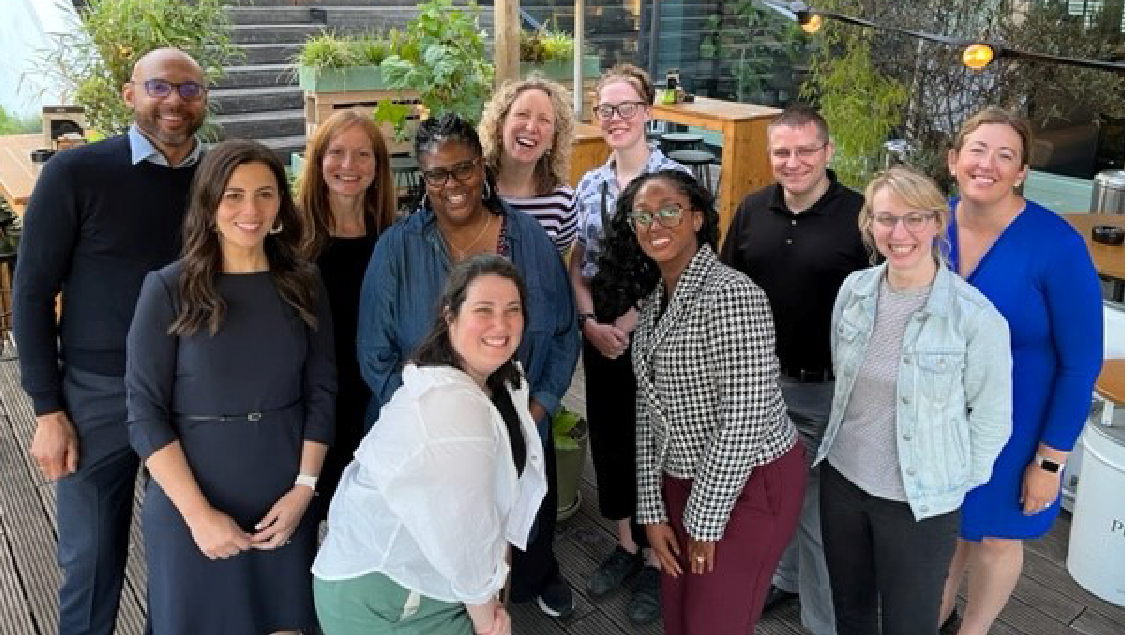 About her time at AAIC, CHDR research assistant and population health science PhD student Sarah Keller, stated, "I had so much fun attending sessions and presenting my work at AAIC 2023. Seeing the breadth and depth of Alzheimer's disease research happening around the world, and the pace at which it's advancing , was inspiring. To get an opportunity to share some of the research CHDR is doing and to see it resonate with an international audience reminded me of how critical our work is, and where it fits into the broader body of AD and health disparities research."
Images courtesy of Sarah Keller and Amy Kind.