The Center for Health Disparities Research (CHDR) invites you to attend its upcoming presentation and panel discussion, Mechanistic Health Disparities Research in Aging and Alzheimer's Disease, on April 15, 2022 at 10:00 a.m. CST!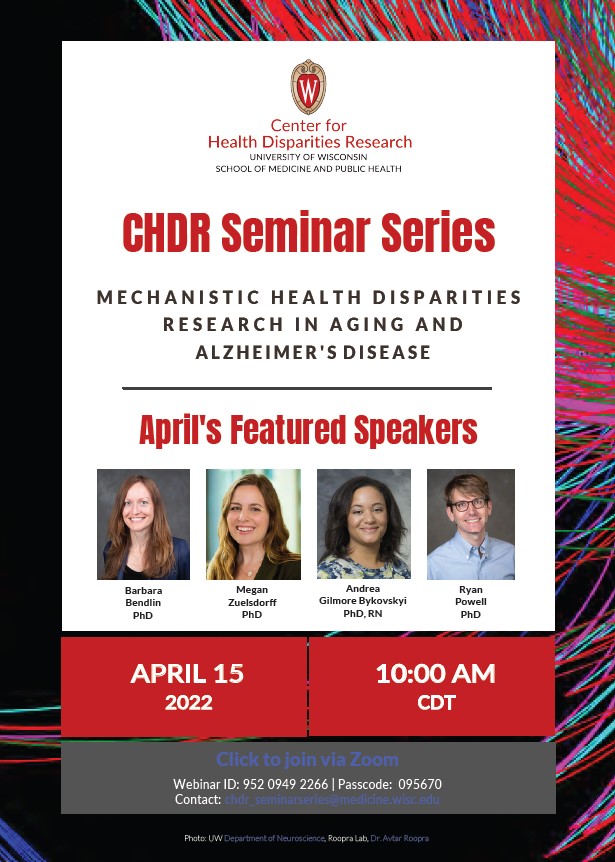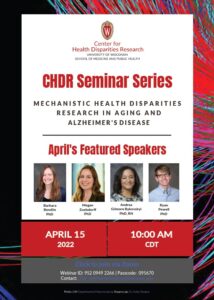 April's featured seminar speakers will discuss how social contextual factors may impact the brain, including affecting trajectories of cognitive brain aging, as well as risk for pathologic brain
changes.
Attendees will learn more about how factors such as stressors, social isolation, and time and material scarcity may impact brain health and cognition. Research presentations will be followed by a panel discussion featuring Barbara Bendlin, Megan Zuelsdorff, Andrea Gilmore Bykovskyi, and Ryan Powell.
The seminar will be hosted on Zoom. The event is free, and registration is not required.
Please click on the flyer or scroll down for more information and to access the Zoom webinar.
We hope you will join us!