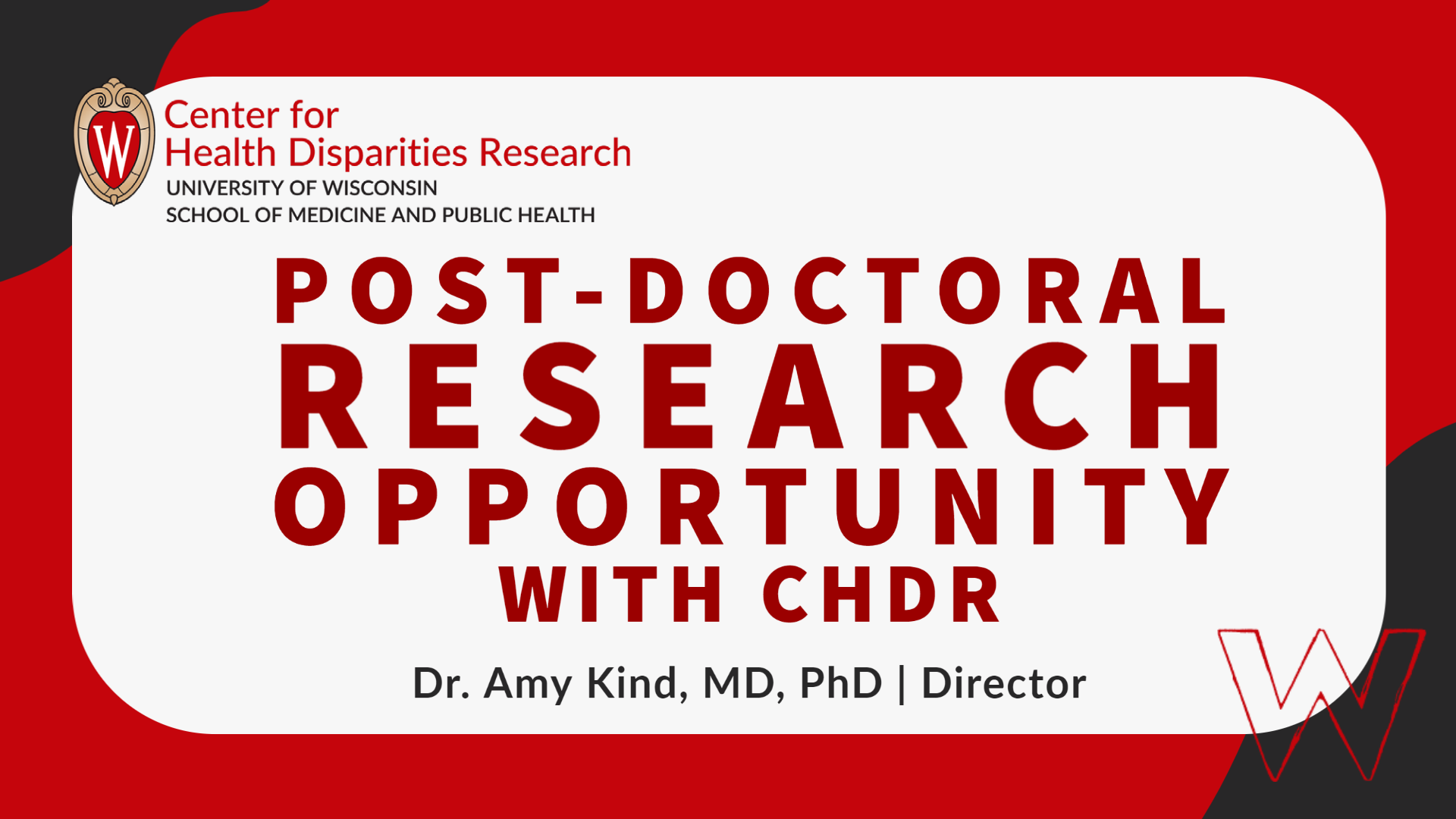 Led by founding Director Amy Kind, MD, PhD, CHDR is committed to discovering and advancing innovations toward the elimination of health disparities.
The Postdoctoral Research Associate will be deeply involved in The Neighborhoods Study—a NIA-funded, national 22-site initiative that seeks to understand how social exposures from across the lifecourse influence overall brain health and Alzheimer's disease and related dementias. More broadly, the Postdoctoral Research Associate will have the opportunity to contribute to CHDR's varied scientific and analytic activities on the social determinants of health, and related disparities. The position represents an opportunity for significant professional and scientific growth within a collaborative, supportive research environment.
The Postdoctoral Research Associate is a salaried position, with benefits. Salary will be aligned with NIH NRSA scale and commensurate with experience.
Who Should Apply
Candidates holding a doctoral degree in the Social Sciences, Public Health, Brain Sciences, or a related quantitative field—including but not limited to Population Health, Epidemiology, Statistics, Health Services Research, Sociology, Psychology, Neuroscience, Neurology, or Psychiatry—are encouraged to apply.
The ideal candidate will have demonstrated quantitative research skills, proficiency and independence in statistical programming and data analysis (STATA, SAS, R, or other statistical software), excellent writing skills, and an ability to work effectively as a member of a multidisciplinary team. Preference will be given to candidates with research experience in the social determinants of health, health disparity research, and/or brain health (Alzheimer's disease and related dementias, cognitive aging).
The Center for Health Disparities Research (CHDR) in the School of Medicine and Public Health has a deep and profound commitment to diversity and recognizes its vital role in eliminating health disparities. We value inclusivity and respect the many differences and similarities in the workplace, including the varied perspectives, approaches, and competencies of coworkers and populations that we serve. Diverse perspectives strengthen our team and its impact, and we encourage applications from candidates who foster and promote the values of diversity, equity, and inclusion. We enthusiastically invite BIPOC and/or LGBTQIA+ candidates, women, persons with disabilities, military service members and veterans, and members of other marginalized communities to apply.
To apply, please send a letter of interest describing your research goals and experience and your CV to Ryan Powell, PhD at rpowell@medicine.wisc.edu.